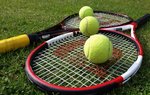 Tennis
For a list of this year's athletes,
see our "Roster" page.
This year's schedule is posted below
the fundraiser announcement.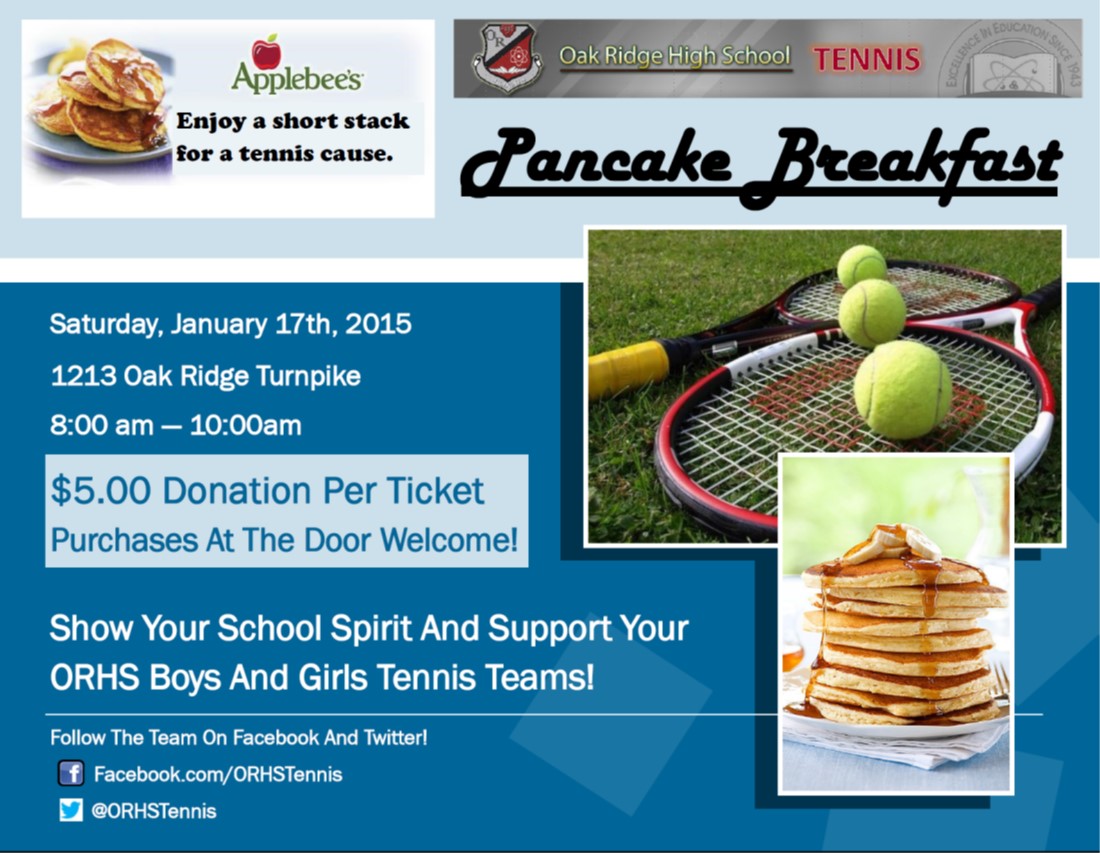 ORHS Tennis' Annual Applebee's Pancake Breakfast Fundraiser Event
OAK RDIGE, January 5, 2015 – ORHS Tennis Boosters Club is pleased to announce this year's edition of the ORHS Tennis program's Applebee's Pancake Breakfast fundraiser event, the long-standing tradition in the Oak Ridge community.
This year's pancake breakfast will be held on Saturday, January 17th, from 8:00 am to 10:00 am at the Oak Ridge Applebee's location on the Oak Ridge Turnpike.

As in years past, tickets to the pancake breakfast will be available for purchase for $5.00 from any of the boys or girls team players, and at the door the day of the event with a $5.00 donation.

The Applebee's Pancake Breakfast is normally one of 3 major fundraisers held each year by the tennis program. This year the other fundraiser events include Spirit Night At Chik-Fil-A in early February and a carwash event with a discount card held in conjunction with a local car washing business in mid to late March. Earlier fundraising for the 2015 season kicked off with a Krispy Kreme doughnuts sale held in late November of last year.

The players and the coaches of the ORHS Boys and Girls Tennis teams would also like to extend their best wishes and their heartfelt gratitude to the local community for its never-ending willingness to participate in these all-important annual fundraising events that are truly the lifeblood of the Oak Ridge High School tennis program. Without participation from members of the local community, it would be nearly impossible to keep the tennis program at the competitive level expected and enjoyed by all the Oak Ridge High School's athletic programs.
The team looks forward to welcoming everyone at this year's Applebee's Pancake Breakfast event. Bring a friend and "enjoy a short stack for a tennis cause!"

To find out more about the ORHS Tennis program and upcoming events, follow the teams through social media at www.facebook.com/ORHSTennis and on Twitter @ORHSTennis.
Contact:
ORHS Tennis
Email: orhstennis@gmail.com
Facebook: facebook.com/ORHSTennis
Twitter: @ORHSTennis
| | | |
| --- | --- | --- |
| Date | Opponent | Time @ Location |
| 2/24 | Webb | 4:00 p.m. @ Webb |
| 3/09 | Karns | 5:00 p.m. @ ORHS |
| 3/11 | Anderson County | 5:00 p.m. @ ORHS |
| 3/12 | Campbell County | 5:00 p.m. @ ORHS |
| 3/26 | Gibbs | 5:00 p.m. @ ORHS |
| 3/27 | Central | 5:00 p.m. @ ORHS |
| 3/31 | Heritage | 5:00 p.m. @ ORHS |
| 4/02 | Bearden | 5:00 p.m. @ ORHS |
| 4/06 | Maryville | 5:00 p.m. @ ORHS |
| 4/07 | Hardin Valley | 5:00 p.m. @ ORHS |
| 4/09 | Jefferson County | 5:00 p.m. @ ORHS |
| 4/14 | Clinton | 5:00 p.m. @ Clinton |
| 4/15 | Powell | 5:00 p.m. @ ORHS |
| 4/23 | Halls | 4:30 p.m. @ ORHS |
| 4/28 | West | 5:00 p.m. @ ORHS |
| 5/01-03 | District Tournament | TBD |