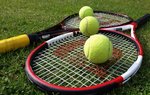 Tennis
For a list of this year's athletes,
please see our "Roster" page.
Link at top.
The Tennis Team end-of-season banquet will be held on Wednesday May 14 at 6:00 PM in the ORHS cafeteria. The food will be catered by Buddy's Bar-b-q. The cost is $7/person, but the coaches and senior players do not have to pay. We ask the boys to bring one bag of your favorite chips, and ask the girls to bring something for dessert. Please RSVP by Wednesday May 7 to let us know how many members of your family plan to attend, and if there are any dietary restrictions (allergies, religious restrictions, vegetarian, etc...). Plan to pay on the night of the banquet with cash (exact change, please!) or by check made payable to ORHS Tennis Boosters.
We look forward to seeing you on the 14th as we celebrate an outstanding tennis season!
Best Regards,
ORHS Tennis Boosters
| | | | | |
| --- | --- | --- | --- | --- |
| Date | Opponent | Time | Drinks | Snacks |
| 3/5/2014 | Webb School of Knoxville @ Webb | 4:00 PM | Sample | Sample |
| 3/11/2014 | Karns High School | 4:30 PM | Skipper | Tatum |
| 3/13/2014 | Central High School | 4:30 PM | Nelson | Ford |
| 3/31/2014 | Anderson County High School | 4:30 PM | Singh | Cross |
| 4/1/2014 | Hardin Valley High School | 4:30 PM | Pang | Moon |
| 4/3/2014 | Maryville High School | 5:00 PM | Salamacha | Winfree |
| 4/8/2014 | Campbell County High School | 4:30 PM | Owens | Koko |
| 4/10/2014 | Powell High School | 4:30 PM | Sauter | Giles |
| 4/11/2014 | Clinton High School | 5:00 PM | Beckler | Bordeau |
| 4/16/2014 | Halls High School @ Halls | 4:00 PM | Powers | Lee |
| 4/17/2014 | Bearden High School | 5:00 PM | Abernathy | Barringer |
| 4/22/2014 | West High School | 4:30 PM | Clark | Willey |
| 4/24/2014 | William Blount @ William Blount | 4:30 PM | Conley | |
| 4/29/2014 | Heritage High School | 5:00 PM | | |
| 4/30/2014 | Gibbs High School | 4:30 PM | | |